US Election 2016: Hillary Clinton's English mining roots.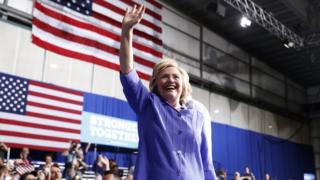 If Hillary Clinton is elected president when millions of Americans vote next week, a small corner of England will be claiming links to the most powerful woman in the world. BBC News went to the mining region where her grandfather's journey started more than 100 years ago.
"There's a girl in my class who looks identical to Hillary Clinton."
It was the early 1990s, and this innocuous comment by a teenager, about the wife of the new President of the United States, would usually have raised no more than a passing interest.
But the teenager in question was the son of local historian Jack Hair, a man intent on uncovering the history of the town of Stanley, in County Durham, north-east England.
Mr Hair's curiosity piqued, he decided to speak to the girl's father who confirmed there was indeed a family link to Mrs Clinton, setting the amateur historian off on a mission to establish the then-First Lady's roots.